Scalp micro pigmentation & Hair Simulation
Scalp micropigmentation is an alternative solution for people who have hair loss due to health problems or as a result of aging process. Over the past few years, scalp micropigmentation became a very popular treatment in Europe and USA, whereas in Turkey, it's fairly new and HAIRPIGMENTATIONS is the first to start using this technic on 2011.
Scalp Micro Pigmentation For Women
Hair loss or baldness (technically known as alopecia) cause psychological stress due to its effect on appearance affecting both men and women. Headscarf, bandana, hair prosthesis, hairpiece or postiche are commonly used among women to hide their hair loss. We perform this treatment in our tattoo parlour in Istanbul. Scalp micropigmentation is classified as a medical tattoo.
Scalp Micro Pigmentation For Hair Loss ALOPECİA
Alopecia areata is an autoimmune disorder, which can be seen in more than one family
member and other autoimmune diseases like pernicious anaemia or vitiligo might be present
in history of such a family.
The camouflage of scars from hair transplantation
Hair transplantation with strip or FUT* technique, leaves a permanent scar in the donor area,
on the back of the head. Using scalp micro pigmentation, we camouflage transplant scars by
simply shading areas to make hair appear denser.
HOW IS THE HAIRPIGMENTATIONS PROCESS?
HAIR PIGMENTATIONS
HAIRPIGMENTATIONS started this treatment afterbeing asked whether he could tattoo a person with Alopecia. After writing an article regarding the subject, there was a sudden increase in demand.
He made researches about the subject and brought inks special for micropigmentation from USA. Thus and so, HAIRPIGMENTATIONS was ready to perform scalp micropigmentation treatment.
WHAT IS THE DIFFERENCE OF SCALP MICRO PIGMENTATION FROM THE CLASSIC TATTOO?
Those who have never heard about medical tattoo, usually ask us about the difference of medical tattoo.
The major difference is that an individual who has a medical tattoo is not classified as a "person with tattoo".
MEDICAL TATTOO FROM A PSYCHOLOGICAL PERSPECTIVE
An individual who comes for a medical tattoo is like a "patient" for us. Medical tattoo is a tattoo used for camouflaging or masking scars from surgery, accidents or burns, and people who need medical tattoo are respected as "patient".
Medical tattoos have a different technique than classic tattoo. We are aware of the fact that patient is feeling psychologically uncomfortable due to the situation. First of all, we listen to the complaints of the patient. After, together with the patient, we decide about the procedure. Because we do not want to cause more serious psychological problems. That's why the communication is very important:
Patient must be clear.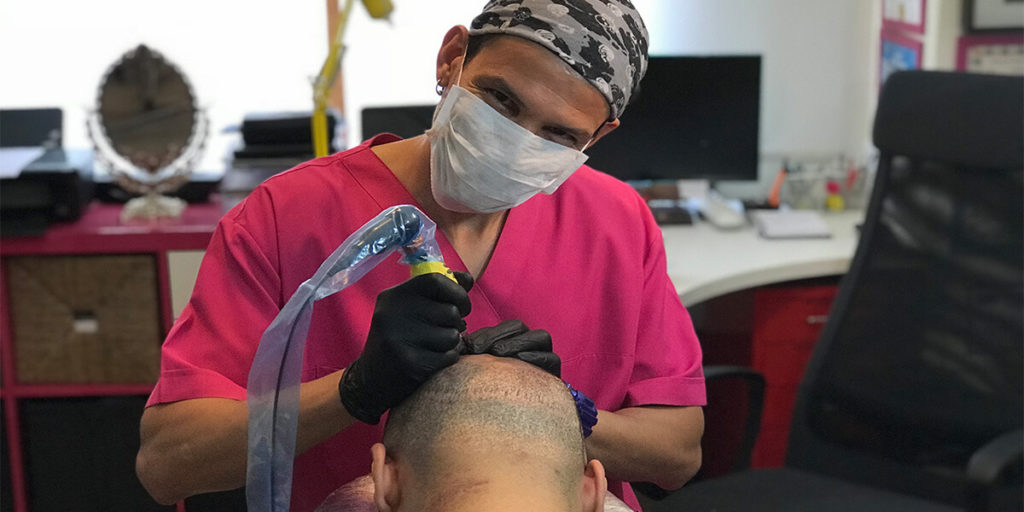 Hairpigmentations instagram posts..
Caddebostan Mahallesi Bağdat Caddesi No:293 Kadıköy / İstanbul
facebook